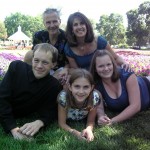 Most of my blogs this season have been quite cheery. It didn't seem fair to myself or to you to continue in this vein without expressing at least a little sadness as well.  Overall, our stepfamily has come a long way. To be honest, I only use the "step" words in this blog or other written materials, for the purpose of differentiating stepfamily talk from bio-family talk. So when I say stepfamily, I mean our unit of 5 including two adult stepchildren.
My sadness comes from my inability to establish a meaningful relationship with my 23-year-old stepson. I'll call him Bud (although he would prefer to be called Bob Dole; I thought that might be confusing

. I know that it takes two to relate, and I think he does make his attempt, but neither of us seem to really relate on the level where I feel we are past the old "stuff." His Dad is absolutely his primary contact, and I seem somehow cursory to the action…but perhaps I am treating him the same way.
This discomfort came to light recently when he moved back in with us after realizing that he didn't like his decision to move to Las Vegas. The turmoil actually swelled between Brian and I as I expressed my frustration about lack of planning and how much guidance Brian gives…but on the other hand, Bud is a person who has rarely taken help or advice, ever. A good friend pointed out that the conflict over Bud is probably more of a reflection on some deeper past issues, and perhaps even marital relationship issues that Brian and I have never worked out. Ugh, that felt even worse – a really squirmy, slightly panicky feeling in my stomach. Which means the friend is right.
I'm willing to tackle these issues but I'd really want it to be in a family counseling setting. Brian and I have come to somewhat of a resolution on the current state of things, having an adult child move back in. But for the deeper issues, if we are going to open this up I just want to do it all at once, with everyone. The question remains whether to invite Bud directly (he has ignored the offer of counseling in the recent past), make it a condition of living here, wait it out until he volunteers he is ready, or some other approach. What do you think, dear reader?
On the bright side, Bud was really pleasant to be around at Brianna's wedding, natural and relaxed, which is a tribute to him during an emotional event at which his natural mother should have been present were it possible. I was proud to have him escort me down the aisle to my seat. Shadows continue to exist only where there is sun!
Mama J (Diane Fromme) is a freelance writer who enjoys exploring family relationships and dynamics. She is still writing from her Northern Colorado, bay-window office (a space which she offered to her husband but he has so far declined).
Tags: families, parenting, Relationships, stepchildren, stepfamilies, young adults